Tuesday 14 October
6.30pm-9pm
Rich Mix, 35-47 Bethnal Green Road, London E1 6LA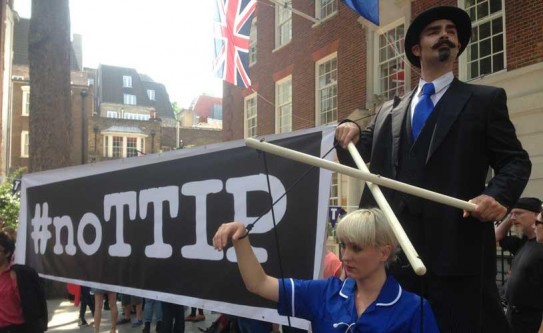 ***free event – no need to register***
It will cost at least one million jobs. It will lock in fossil fuel dependency for the coming decades. It will irreversibly extend the privatisation of key public services such as the NHS. It will make it harder to regulate the banks.  And it will give US corporations the power to sue the UK and other states for loss of profits when these governments introduce public policies designed to protect their citizens.
It is the Transatlantic Trade and Investment Partnership (TTIP). If it goes through, it will be the greatest transfer of power to big business that we have seen for a generation.
But now for the good news: there's every chance we can stop it.
Join us for an evening of films and speakers on the growing fight back against TTIP. Find out how you can join the resistance, what local actions you can be involved in, and most importantly, discuss how we can win!
Suggested tweet: TTIP: Capitalism on Steroids, 6 Billion Ways film night at Rich Mix, Tuesday 14 October https://t.co/cJAPR3LkZ0 #noTTIP